Sustainable algorithmic innovation in PLM solutions as a key technology for the fashion industry?
The fashion industry systemically reflects the disposable society and is currently reinforced by the application of AI.
Considering the climate crisis, which calls for urgent adherence to the goals of the Paris Agreement and the UN's 17 Sustainable Development Goals (SDGs), action is urgently needed.
This study, which was conducted as part of the master's thesis, focuses as an approach on the further development of PLM solutions through the integration of Algorithmic Innovations (ALIN) in order to improve corporate decisions with regard to their sustainability and to support the achievement of the aforementioned SDGs.
But what is the relevance of algorithmic technologies in PLM solutions in terms of sustainability?

Do sustainable ALINs offer a chance to meet the sustainability challenge of the fashion industry?
The aim of this thesis is to investigate the development of PLM systems by integrating sustainable ALIN as a solution to redesign and optimize product development in order to achieve innovative, sustainable product development and production as well as sustainable innovations and products in the long run.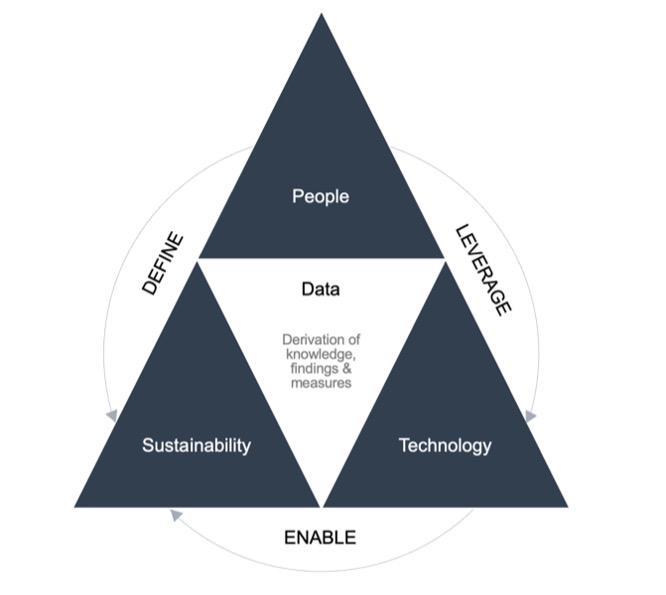 The evaluation of relevant literature as well as empirical research in the form of expert interviews, revealed, among other things, that there is a discrepancy between the applied and the already possible digital technology as well as a great need to catch up on the mentioned sustainability aspects.
Rarely and only in subsectors of the value chain can applied algorithmic technologies be found, which, if available, are mostly used to accelerate production and sales. Circularity, an inevitable component on the way to sustainability of both data and raw materials, is hardly present.
The recommendations for action resulting from the thesis are based on Next Generation PLM developments as well as a draft innovation in the form of the "Follow My Clothes" app.
The use of sustainable ALIN becomes inevitable. Only these are capable of successfully handling the huge amount of data that is generated during digitization on the way to a sustainable knowledge society in a targeted manner. It supports the further development of adapted knowledge in new different combinations.
Achieving the social, ecological and economic goals can only be successful with the cooperation of all participants and with good incentives.
The outlook outlines how the technical possibilities opened up by the digital transformation can unfold their potential. The gap between the current performance of companies in terms of their ecological, economic and social commitment and that required to meet global needs can be closed in this way.