Algorithmic turn (based on AI) –
sustainable and ethical design?
Artificial intelligence and its potentials are a prominent subject in public discussions. Although AI and algorithmic innovation bear great potentials for design-driven and design-based more sustainable and ethical innovation, there is a dearth of discussions on the potentials and effects of AI on design and creative industries.
Thus, we explored the potentials and the impact of artificial intelligence on design, design industry and creative industries. We started with the hypothesis, which has been verified that design innovation driven by artificial intelligence is not yet contributing to more sustainable, ethical and responsible design.
There are some shortcomings as regards to conceptually perceiving design innovation as well as understanding artificial intelligence as a driver of innovation or key technology. Therefore, we developed a novel perspective on the areas mentioned.
New possibillities of data processing (AI) will be developed quickly under optimisation possibillities with special regards on Biases?
Even though the last three decades have been characterized by enormous research on automatization of the data processing, the investments of the development of algorithmic and analytical technology have been increased in the last six years since 2013. Automated data processing and the development of new methods for automated data processing and pattern recognition for a variety of applications have been increased. The most important technical developments have been occurred in the area of machine learning, deep learning, data mining, natural language processing, information search, automated image recognition, behavior  detection, expert systems, which can be very helpful regarding data analysis, knowledge or can make new proposals (Recommender Systems).
Due to the gaps in data regarding the aspects of sustainability and ethics AI solutions cannot contribute to the progress regarding sustainability and ethics.
Discussions with experts about the status and development of AI have shown that emotional intelligence hasn`t been included slightly. There is a lack of commonly accepted guidelines regarding ethically acceptable behavior when designing AI-based solutions.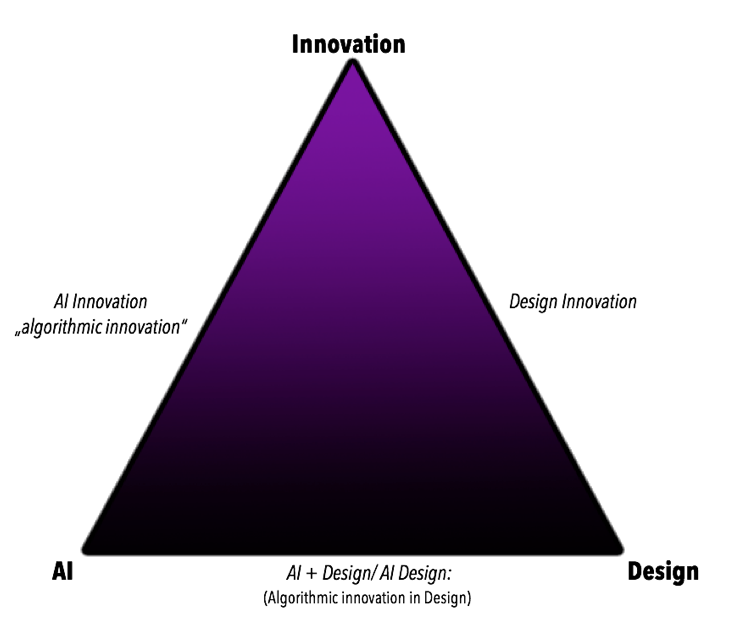 As the AI Design Competence Collective, we have worked on the description of various aspects of AI, design and innovation and their interdependent effects. This was done with the aim of developing the status quo of the ethical responsible and sustainable AI design-driven innovations. Therefore we have analyzed the three fields of AI, design, and innovation as well as their relations and challenges.
Algorithmic innovation changes the design and  the design paradigms
From the perspective of the innovation research, AI has the potential for various and profound aspects and individual applications towards a radical and disruptive innovation, as these are knowledge technologies: AI-applications enable a change of new knowledge and information as well as the memory, use, and development of the content of knowledge. They can simplify, accelerate and structure them.
The ongoing development of the analytical and algorithmic technology with regard to the wide application of these branches and domains show a disruptive dynamic of an algorithmic innovation, which is already used in many sectors.
Especially in finance, health and insurance sectors, algorithmic technologies have contributed to far-reaching changes. Big changes can be seen in the medical, lifestyle, mobility and creative economy as well as in the fashion sector.
The value creation activities marketing, retail, management and styling are developing very dynamically through algorithmic technology in the fashion sector in the fashion sector.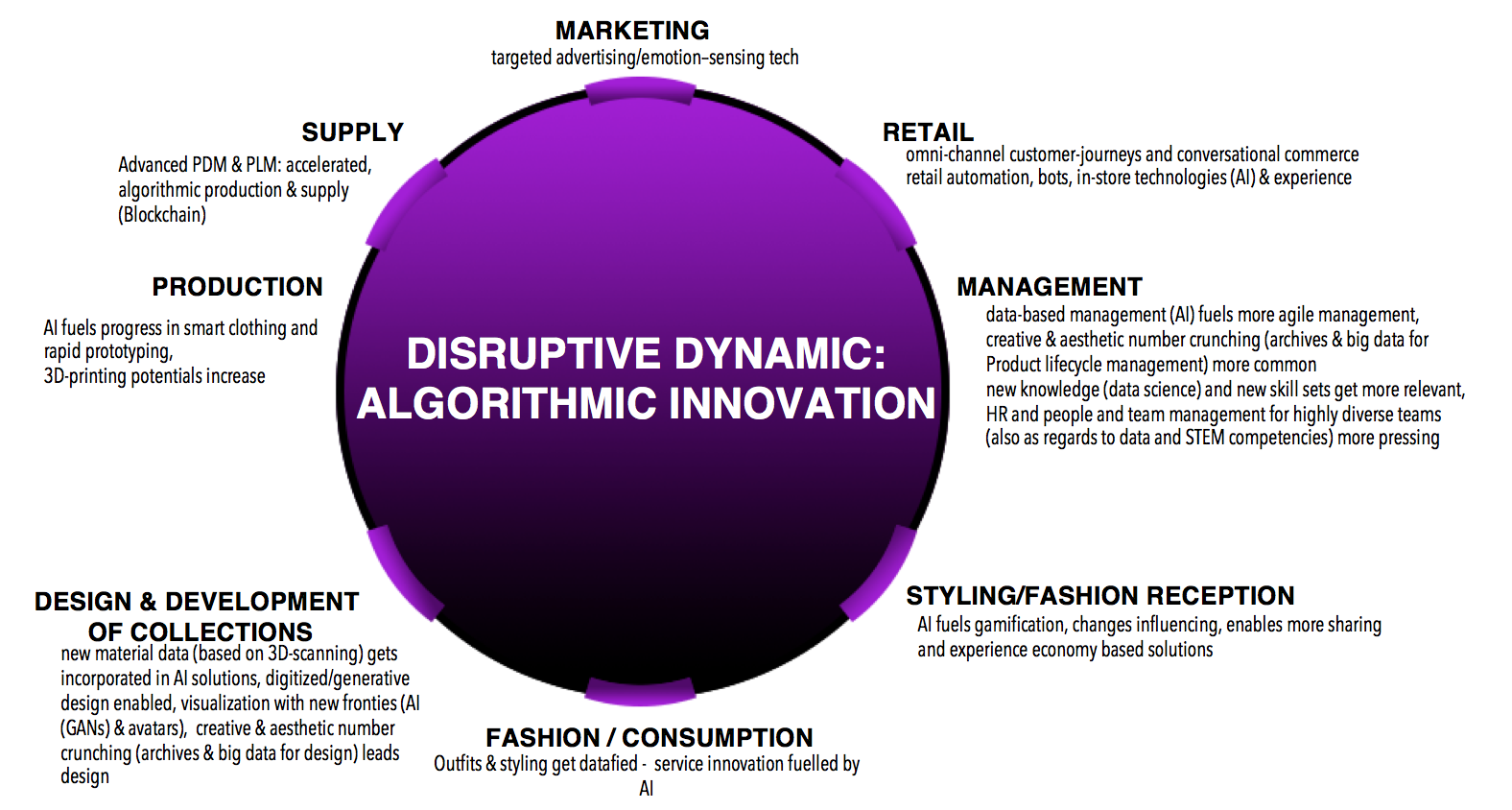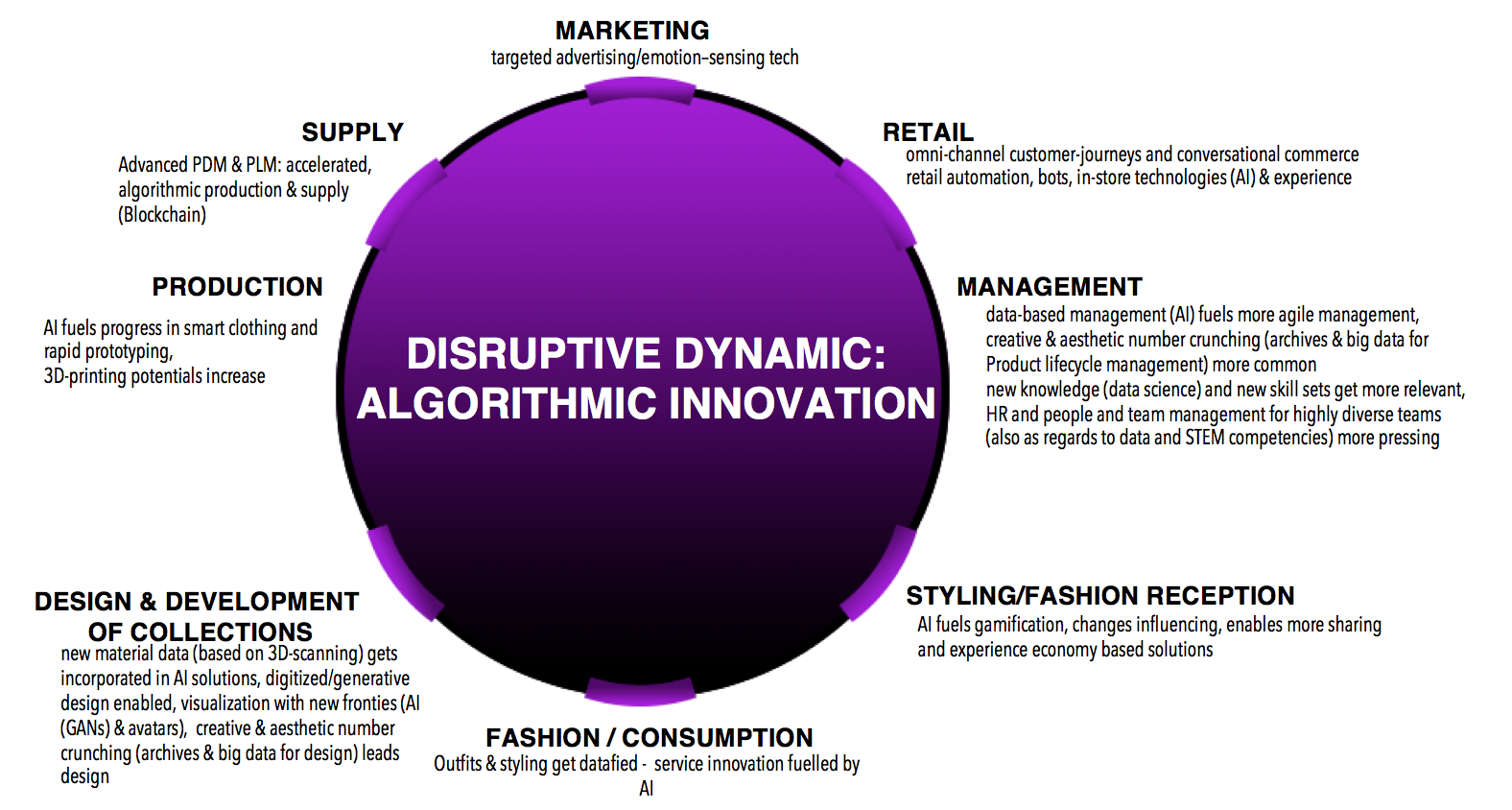 We have discussed the effect of AI and algorithmic innovation for the field of design and design-based and creative industries with our experts. Basically, lots of changes are expected in design. Intelligent systems and virtual assistants will offer more options in design allowing more efficient use. Due to the increase of data and quality design processes are expanding and improving, elegant styles are created. According to the experts' assessments, the major impacts will be observed in interactions, service, data, industry and interface design areas.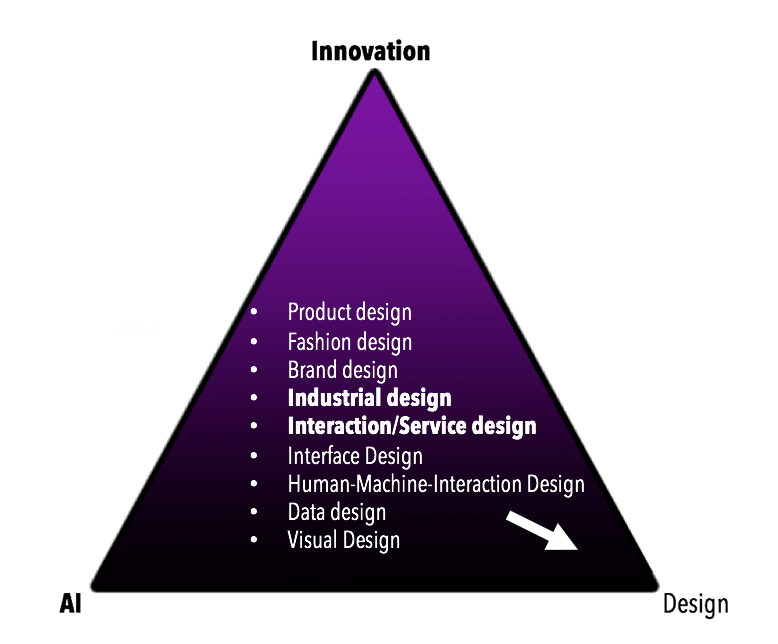 More comprehensive AI-Design competence for sustainable and ethical design innovations
Based on the results of our experts and our analysis there are only a few ethical, responsible and sustainable oriented AI design innovations. This resulted from the following points:
There is an apparent lack of knowledge regarding AI-technical systems
There is an apparent lack of knowledge regarding the integration of AI for domains
There is an apparent lack of data material or the data quality
The understanding of ethical, responsible and sustainable innovation is limited due to lack of  transparency and control
AI is used to recognize existing behavior patterns and trends and to project them unchanged into the future. The potentials of AI yet users/humans /decision-makers do not use the full potential of AI to favorably change or create new patterns and paths of more sustainable and ethical development.
To encourage the current developments and to bring about more ethical, responsible and sustainable design innovation we would suggest to expand the perspective on and the repertoire of competencies and the interactions of AI-based systems/applications, in other words, more applied AI Design Competence.